Ekotank Mars
The Galvanized Steel Tank MARS, the newest product of EKOTANK, has been designed to be a cost effective alternative to Apollo Series.

Mars specifically fills the market need where budget and performance need to be as close as possible to each other. The roof system has been redesigned for the Mars series to include a soft top, replacing the conventional truss roof systems up to a diameter of 11,64 m.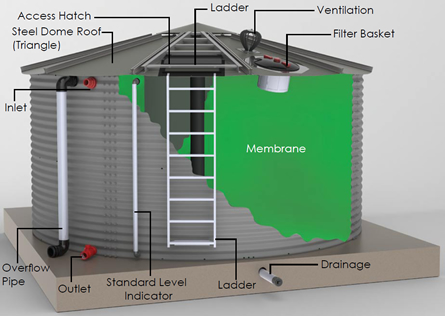 Product Info
Use of 76.2/18mm Corrugated Galvanized Steel Sheeting forms Mars into a flexible system. The steel panels of the tank are coated with zinc layer on both sides to ensure long lasting performance in outdoor weather conditions. Mars is produced from 9.000 liters up to 3.000.000 liters (3.000tons) in-house using corrugated steel galvanized technology.
Mars has a special geomembrane liner inside to ensure the liquid stored inside does not contact with the steel parts. The standard geomembrane used in our tanks is certified for drinking water and can also be used to store other types of liquids. Fuel, industrial liquids and related chemicals can be stored using Ekotank Mars with membranes specially developed for purpose use. Please contact our sales team to inquire about storing industrial chemicals. The liner is produced using high frequency welding machines to ensure a perfect weld and water tightness. Standard Mars liner is UV protected and prevents aquatic organisms such as mould, fungi etc. to form in our tanks.
The tank offers 2 different steel roof systems. A triangle modular roof system and a truss based steel dome roof just like the Apollo Series. In the Triangle system the roof is separated in a number of panels, which are fitted together with watertight connection technology. In the truss dome system, the roof is first retrofitted with galvanized steel trusses, and then the roof area is covered by galvanized steel panels to complete the process.
Ekotank Mars also has 2 soft top solutions for applications that do not require steel domes. The indoor flat cover is made out of high-quality geomembrane which is fixed on to the rooftop to make sure that the quality of water or the liquid inside is preserved. For outdoor applications, the conical shaped cover is specifically designed to offload rain and snow loads making sure that the water or liquid keeps its quality without contamination. Ekotank Mars soft covers provide the perfect balance between budget and performance, making the product more attractive to a larger customer base.
All Ekotank Mars systems come with a standard level meter placed outside the tank. Digital and manual pulley type level meters are available as optional accessories upon request.

Prime Applications
Storage of potable and rain water
Storage of industrial liquids
Agriculture, Farms, Plantations (Manure Storage)
Industrial Applications
General Water Supply (residential or public use)
Fish Ponds at fish-hatcheries
Schools, Hospitals, Fire Departments
Army Camps, UN Organizations and its sister agencies (UNICEF,WHO,WFP…ETC.),Military operations
Recreational/ Theme Parks, Hotels, Resorts
Mega-mall, Shopping centers
Offices, Factory Plants, Municipal Districts (theme parks, offices)
Housing Properties, Remote Working Sites
Advantages
Thanks to its corrugated shell and hot dip galvanizing technology, Ekotank Mars is very durable both indoor and outdoor conditions
Using the latest in geomembrane technology, Mars makes sure that the liquid stored inside is not contaminated
Having a modular design, Ekotank Mars can be shipped anywhere in the world and erected on site very easily.
Ekotank Mars, when produced in optional powder coated colors can easily blend into any environment.
Mars is designed to withstand thunderstorms and earthquakes